A smarter way to control your irrigation.
Your irrigation equipment, your irrigation practices. FarmHQ makes smart irrigation control easier and more efficient without forcing costly changes to your operation.
Irrigation Control for Pumps
Smart irrigation control and monitoring for any irrigation pump from your phone, create custom irrigation schedules, and integrate with other equipment for automatic start/stop functionality.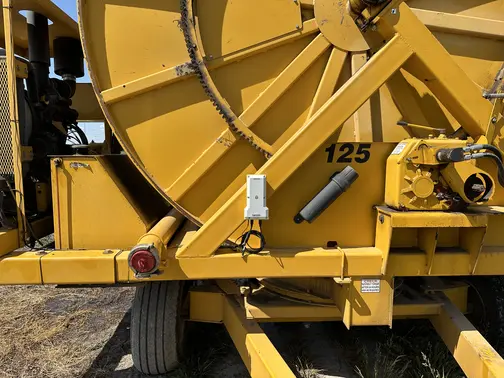 Irrigation Control for Hard Hose Reels
Smart irrigation control and monitoring, automatic pump shutdown, application rate analysis, and automated record keeping for any hose reel irrigation system.
Irrigation Control for Center Pivots & Linears
Smart irrigation control and remote monitoring the for your center pivots or linears directly from FarmHQ. Integrate with any irrigation pump to enable advanced features like automatic pump shutdown and programmable stop-in-slot capability.
Irrigation Control for Valves
Operate any solenoid-compatible irrigation valve remotely, create custom irrigation schedules, receive auto-close signals from other equipment, and keep tabs on your water pressure and flow rate throughout the irrigation season
Irrigation Control for Flow Meters
Upgrade your existing pulse-output flow meter for real-time Flow Rate Analysis, detailed water uasage records, alerts, and automations. Access your irrigation history and export for easy reporting and compliance.
What our customers have to say:
Automatic Shutdown
"Even with new equipment, there's no way to do anything from your phone. There are always 'what-ifs.' We wanted a better way to track what's happening and where things are. I liked the idea of locational tracking, the safety measure of automatic pump shutdown, and being notified when something has gone wrong. I'm happy with how it's worked-it's as advertised."
Wylie Thulen, Pioneer Potatoes
Real-time Monitoring & Control
"Everything is right there at your fingertips. I can look at my phone six times a day instead of doing six field drive-bys. Knowing you don't have to sit in the field during a late-night reel change and knowing I have 30 minutes to have dinner with my kids or put them to bed, it makes it a lot more convenient. It's a lot of time savings and peace of mind."
Andrew Albert, Andrew's Hay
Bolt-On System
"Makes irrigation simpler and more efficient. We're now able to run an extra reel simultaneously because of it"
Doug Visser, JV Dairy
Peace of Mind
"We now have peace of mind being able to know when the runs are completed as it lets you plan your day around when you need to be there."
Chris Stasko
Simplified & Efficient Operations
"It has made it a lot easier to know when the traveler would be done, when we needed to be at the field to move it, and be able to shut the pump off so we're not overwatering."
Nathan Baker
Automatic Shutdown
"There are a lot of gimmicks out there, but FarmHQ has actually made our jobs easier…Even if things go wrong just a few times and FarmHQ shuts the pump off, it totally pays for itself."
Gienger Farms
Real-time Monitoring & Control
"If the reel stops or pressure drops it alerts me. I can start/stop the pump with my phone and like that I can leave my equipment at night or leave for the weekend and not have to worry. It has made water use more efficient."
Bill Odell, Rolling O Sod Farm
Peace of Mind
"Before [FarmHQ], I wasn't willing to irrigate 24/7 and would sometimes not run it at night so I could get a good night's sleep, which isn't the case anymore. It has also reduced the issue of arriving too early to the field which would be up to 2 hours before an irrigation run used to be completed!"
Scott Hoffman,  B&B Hoffman Sod Farms
Real-time Monitoring & Control
"We used to have to stay close to the pump and it's difficult to stay around the clock to turn them off and get them started. It's a life changer. To have the option to turn them off remotely, it's priceless."
Adam Stallaert
Simplified & Efficient Operations
"This has changed our management style. Before, if we had a 10 hour pull, we'd have to wait until the end of the day to start it up so it didn't finish in the middle of the night. Now, we can start when it's convenient, and not care if it was going to finish in the middle of the night, which saves us from having an extra person check on them."
Adam Stallaert
Peace of Mind
"We wanted something we could use to keep an eye on our reels so we didn't have to keep driving around all the time and checking on them. The setup was easy. The online instructions were simple. And the devices are good quality. If you want peace of mind and want to work with a great company, then go for it."
Chris Stasko, Stasko Farms
Peace of Mind
"It takes a lot of the worry out of irrigation for sure. Normally I would shut it down before I went to bed but now I let it run while I'm asleep. I can use it later into the night because I can trust it and not go out to check it."
Sam Gebhardt, Gebhardt Farms
"Irrigation equipment is built to last generations, so it's no surprise that most systems in use today still don't have smart irrigation control and remote monitoring capabilities. Even when the equipment is in perfect shape, a lot can go wrong with irrigation and the crop damage, waste, and lost productivity add up quickly if the farmer isn't there to catch it right away. We built FarmHQ on our own family farm to solve this problem and make our irrigation more efficient in the process. By focusing on simple, easy-to-use solutions, we are making life easier for farmers while driving water use more efficiently."
Trusted by hundreds of growers, dealers, and manufacturers in more than 30 states across North America.
FarmHQ Pump Control makes life easier for hundreds of growers in more than 30 states and provinces in North America.
Support for from a knowledgable FarmHQ team member is just a phone call away.
Competitive, transparent pricing tailored to your operation's needs.